Nextris
Matoran
Group
None
Tribe
Earth (Formerly)
Occupation
Hunter
Powers
Flight
Kanohi
None
Tools
Claws
Status
Unknown
Location
Unknown
Pronunciation
NECKS-triss

Nextris is a mutant Matoran to appear in the Altronia Continuity.
Known Information
Edit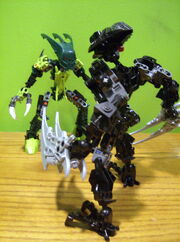 Affiliation
Edit
Nextris will be a bad guy, but only on his own side, never anyone else's.
Abilities
Edit
Nextris is much stronger than the average Matoran, almost to the level of a Skakdi.
His hands changed into protosteel claw blades.
Personality
Edit
He will be cold and aggressive, as well as proud of his power post-mutation, so he will be reckless. He will also be evil. Duh.
"Nextris" is based off the word "extras" which he will sorta be, but, like most extras in the Altronia Continuity, will have his own stories to tell.
He is missing an eye. So the other eye part is supposed to be black, for all those who might have been wondering.

Preemptive answer to nonexistent question.

He will have a bad relationship with Endrian.